2014 nfl draft
now browsing by tag
Prospect: Jason Verrett
College: Texas Christian
Height: 5'11″
Weight: 180 lbs
Wisconsin Badgers Prospect Preview:
Joel Stave, QB, Sophomore
If my opinion means anything, then Joel Stave should be the starting quarterback of the Wisconsin Badgers. He has to have the inside track for the job after the way he played in the spring game, but the new Badgers Head Coach Gary Andersen likes his quarterbacks to be mobile so it's no sure thing. However, Stave has all the size (6'5", 219) and arm strength a Badger fan could ask for.
His accuracy impressed me as well, but he has room to grow in that area (particularly on deep balls, which he is hit or miss on). On top of that, Stave essentially saved Wisconsin's season last year by solidifying the quarterback position and giving them a semblance of a passing game, so I trust him to be an effective starter for the full length of a season if he can stay healthy.
Stave completed 58.8 % of the 119 passes he threw a year ago and started 6 games. He passed for 1,104 yards, 6 touchdowns and 3 interceptions in those games. He may not be perfect, but if the Badgers can run the ball effectively they won't need him to be. I'll take him over any Badger quarterback I've watched since I started watching college football with the obvious exception of Russell Wilson.
Now, if Stave can't stay healthy the Badgers do have a reliable option in Curt Phillips, a 6th year senior, that they can trust to take snaps at quarterback. Still, if I have to choose between Stave and "Curt Tebow" as I took to calling him during some of his late game heroics last year I'll take Stave and not think twice.
Melvin Gordon, RB, Sophomore
Gordon is a kid that I heard about during the spring game last year and I immediately was intrigued. A 6'1", 206 pound kid with what I believe is sub 4.5 speed? Sign me up. Gordon was impressive last year and despite being behind both Montee Ball and James White he racked up 621 rushing yards and 3 touchdowns with an INSANE 10 yard per carry average. Not only that, but he added 151 yards and a 21.6 yard average per kick return as well.
Gordon is an impressive back with the strength to run through tackles, impressive burst and enough long speed to rip off big chunks of yardage. He's going to be the next great Wisconsin running back and I've been saying it since last August. I still feel the same way, and I can't wait to watch him split the carries with James White this year.
James White, RB, Senior
White is an interesting player, because as a sophomore he really ran into the "sophomore slump" that talented freshmen run into at times. The 5'10", 197 pound back ran for "only" 713 yards (5.06 ypc) and 6 touchdowns after rushing for 1,052 yards and 14 touchdowns as a freshman.
He got back on track as a junior, rushing for 806 yards (6.45 ypc) and 12 touchdowns despite carrying the ball less than he did as a sophomore (125 carries vs 141 carries). He's Wisconsin's speed back and he has legitimate sub 4.5 speed, he's very quick, and he has surprising strength for a smaller back.
Not only that, but he's a reliable and dangerous receiver out of the backfield who figures to be featured more in this role as a senior. I like White, but I can't quite shake that sophomore slump season from my memory despite the bounce-back year he had last year. I'm still hoping to see that absolutely dynamic freshman again, and I hope he comes back for one last hurrah this season.
Jared Abbrederis, WR, Senior
Abbrederis is a player I've been rooting for since he was a freshman. He's a former walk-on who actually got playing time in one receiver sets over Nick Toon even as a freshman while Toon was a junior. He's a high effort, high work ethic player who may not be the biggest or the fastest, but he finds a way to get the job done.
He's listed at 6'2", 188 pounds but I think he will measure in at 6'1" or maybe even 6'0" even. He's probably going to run in the 4.55 range for his 40 yard dash time so he's not a burner, but he runs good routes, has good quickness and reliable hands. If he gets drafted I think it will be at the end of the draft, likely in the 6th-7th round range, but it's entirely possible he ends up signing with a team as an undrafted free agent.
Still, Abbrederis has been a reliable receiver for the Badgers since he arrived on campus and he produced 49 receptions, 837 yards and 5 touchdowns last year despite the carousel at quarterback throughout the season.
Kenzel Doe, WR/KR, Junior
Doe was flying under my radar as he only hauled in 16 receptions for 121 yards as a sophomore but I expect his role on the team to increase significantly this year. Doe is a dynamic threat in the slot and as a return man and I expect him to be utilized in a number of ways to take advantage of his speed.
Doe is listed at 5'8", 170 pounds, so he is quite undersized, but he has plenty of speed and quickness to help compensate for that. As a return man he averaged 27.9 yards per kick return and 12.4 yards per punt return, including an 82 yard touchdown against his new Head Coach's former team Utah State.
He had a very good spring game and I fully expect to see him as Wisconsin's primary slot receiver, kick returner and hopefully punt returner as well. If Stave wins the job I think Doe will easily exceed his 16 receptions and 121 yards as a sophomore.
Jacob Pedersen, TE, Senior
Pedersen isn't the same prospect that Lance Kendricks was at the position a couple of years ago, but Pedersen is a poor-mans Kendricks to me. He's not the same athlete, he doesn't have the same upside, but he is reliable in the pass game and as a run blocker. He's not going to be a dominant in line blocker at the next level, but as an H-Back type blocker he will be just fine.
At 6'4", 237 pounds he's not a huge guy but he has enough athleticism for me to think he's going to get day 3 consideration. He isn't a flashy player that does anything spectacularly well, but he is solid in all areas. Also, keep an eye on a back-up TE named Sam Arneson, he's #49 and he can really bring it as an inline blocker.
Ryan Groy, OT/OG, Senior
Groy is a player I was initially worried about sliding outside to tackle, but I think he will be able to hold up alright there as a senior. It's tough to project how the 6'5", 318 pounder will do on the blind side since I've never seen him play there, but he has enough lateral agility, good enough length and a strong enough anchor for me to think he can handle it.
Originally I viewed him as only a guard, but after watching him and taking notes I think he might have a shot at playing tackle at the next level. That is all obviously projection, and I'm certainly not sold on him as a NFL left tackle, but he is carrying a day 2 grade from me into the season without a doubt.
I'm excited to see what he can do, because as a guard he showed pretty good hand placement, a good anchor, and was smooth getting to the second level. He doesn't strike me as a mauler in the run game, and is at his best when he can double team a defender, seal him off, cut him, or combo block and get to the second level.
He's not a great puller, but he looked solid when asked to do it. I think he's going to be a good ZBS fit at the next level, and could potentially be a very good right tackle in a scheme that uses a lot of those concepts. I can't wait to see what he can do outside at tackle this year.
Rob Havenstein, OT, Junior
Havenstein was a bit of a problem area for Wisconsin's line last year but I see potential when I watch him. The most surprising thing about the 6'8", 342 pound lineman was how quick he was out of his stance as a pass blocker. He gets good depth, is often the first one out of his stance, and doesn't look like he will struggle with speed off the edge if he can improve his technique over the next two seasons.
He has the length, he has the size, he just needs to work on some of his mechanical issues. He ends up on the ground a lot as a result of poor hand placement and I'm not sure if he's a natural knee bender at this point. He's obviously huge and is effective when he blocks down on defensive tackles and can wash them out thanks to his size and strength, but he's not great at getting to the second level.
He showed some ability to recover in pass protection which was encouraging, but I'm going to be watching him closely next year to see how he does when he is tested by quality pass rushers.
Kyle Costigan, OG, Junior
It's official; the Kyle Costigan bandwagon starts behind me. I am driving it and there's no one that can convince me otherwise. I LOVE this kid's game. He's listed at 6'4", 313 pounds but he moves like he weighs 280. He is such a smooth puller, he is a text book combo blocker, he gets to the 2nd level easily, and he is a very good cut blocker.
Not only that, but in the Ohio State game he absolutely held his own in 1 on 1 situations with Johnathan Hankins which is no easy task. He was only a sophomore, but he was awfully impressive to me in the games I watched. He looks like a potential 1st round draft pick if he continues to improve and get stronger. Look out for him.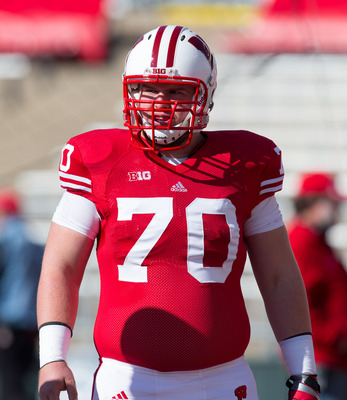 Dan Voltz, C, Freshman
Voltz is a player I obviously haven't watched any of yet, but the coaches seem to be high on him, and he's being pegged as a potential future 1st rounder following in the steps of Peter Konz (2nd rounder) and Travis Frederick (1st rounder, even if everyone hated the pick). He's listed at 6'4", 301 pounds and is supposed to be very smart based on what I've read about him.
It's going to be tough to pick up where Frederick left off from a football IQ standpoint but I'm excited to see what he can do as the only underclassman starting on Wisconsin's offensive line at what some consider the most critical position.
Ethan Hemer, DE/DT, Senior
Hemer is a player I'm excited to watch this year because I think the 3-4 scheme that the Badgers are installing as their new base defense will play to his strong suits. He's listed at 6'6", 296 pounds so he is essentially the prototype 3-4 defensive end. Last year he managed 24 tackles, 1 sack, 1.5 TFL and 3 pass defections in his first year as a starter. I expect him to be more disruptive this year and I think 3-4 teams are going to be intrigued by him as a possible day 3 selection.
Beau Allen, DT, Senior
Allen is the key cog in Wisconsin's defense this year because if he can hold up versus double teams in the middle and free up Chris Borland and Ethan Armstrong to play clean versus the run then the Badgers will be a much better defense in 2013. Allen certainly has the size to do it as he is listed at 6'3", 335 and is one of the key players returning on defense.
He managed 37 tackles, 2.5 sacks, 5 TFL and 2 pass break-ups as a junior and while I think that his statistics might not be the same as a year ago at the end of the season he may have an even bigger impact. He's going to see a lot of double teams this year and if he can hold up at the point of attack he's going to be very attractive to a lot of 3-4 teams at the next level.
Brendan Kelly, DE/OLB, Senior
Kelly is a player I'm really rooting for because he has been through so much during his time with the Badgers. He sustained a serious groin injury as a freshman but attempted to play through it before realizing that he had torn four muscles off of his pelvis, and missed the final conference game the Badgers played that season.
When he attempted to come back during fall camp the next year he aggravated the injury, leading to additional surgery and time on the sidelines. He had three total surgeries on his groin and he missed time with a hand injury as well. He stayed healthy (as far as I know) last season and the 6'6", 258 pounder managed 28 tackles, 5 sacks, 1 TFL and 2 pass break-ups on the year.
I'm not sure he's going to be considered before the end of day 3, but the fact that he even has the chance to be drafted after all the injuries he has sustained is impressive. I'm really hoping he has a break-out year this year rotating with Tyler Dippel at outside linebacker.
Chris Borland, ILB, Senior
It's hard to believe Borland is finally a senior, but it's happened. It feels to me like he's been at Wisconsin forever, but now the "short not small" 5'11", 242 pound linebacker is getting ready to graduate and attempt a jump to the NFL. Borland's size is going to hurt him in the eyes of evaluators but he's strong, moves well and is a very good tackler. He has exceeded 100 tackles the last two years, including 104 tackles, 4.5 sacks, 5.5 TFL and 6 pass break-ups as a junior.
Borland doesn't excel at shedding blocks and can be engulfed by bigger players at times, but he has a good motor and plays the run well. He's a good blitzer as well, but I don't completely trust him in pass coverage. I don't think he's a liability there, but I think he still has room to improve that part of his game. He's not going to be a fit for every defensive scheme in the NFL, and many will doubt that he even has starter upside.
I've seen him play too much to say he doesn't, but I don't think he's going to be given a starting gig. He's going to have to make the team as a likely day 3 selection and claw his way to playing time. I think he can do it though, and hopefully I'll be able to see him show his skills at an All-Star game this winter.
Ethan Armstrong, ILB, Senior
I'm not very familiar with Armstrong's game as last season was his first as a starter, but the undersized 6'2", 216 pound linebacker started all 14 games last season and managed 93 tackles, 2 TFL, 4 pass break-ups and an interception.
I don't think he's the same prospect that Borland is and isn't nearly as filled out considering he is listed as 3 inches taller than him yet he reportedly weighs 26 pounds less. If he can fill out his frame he might have a NFL future, but there's no way he can last in the NFL weighing under 220 pounds.
Dezmen Southward, FS, Senior
Southward is the only returning starter in Wisconsin's secondary but from all I've read about him he has really taken to his new leadership role as the veteran among the DB's. The most surprising thing to me about Southward was that he only picked up football as a senior in high school (he previously played basketball) and didn't even play safety. He has had to start from scratch as far as learning the game and as a fifth year senior, he has only been playing the game for 6 years.
The 6'2", 213 pound safety is obviously a good athlete and he is being touted as a potential star this year. In his first season as a starter Southward totaled 69 tackles, 8 TFL, 4 pass break-ups and 1 interception from his free safety position. This year he will be expected to be even better in coverage and help Wisconsin create more turnovers.
The younger brother of former No. 1 overall pick David Carr, Derek is widely considered one of the premier senior quarterbacks in the nation after a highly productive season for Fresno State—4,104 passing yards, 37 touchdowns—in 2012.
After watching three of Carr's games from the 2012 season, it's clear that there is a lot of potential with the quarterback. However, there are a lot of things he needs to work on if he is to push into the first two rounds of the 2014 NFL draft. I charted every throw he made versus the three toughest defenses he faced in 2012—Boise, Oregon and SMU.
The key for the throws marked on the QB accuracy chart can be found below:
Fresno State 10 @ Boise State 20
Before I start to breakdown the throws that Carr made during this game, there are several things that have to be considered. One is the sordid state of the Fresno State offensive line. There were only a handful of times during this game that Carr was able to sit in the pocket and make a throw. When he has the time to do this, he can make some tremendous throws. When throwing more expansive routes in the intermediate and deep range, he was plagued by drops from his receivers also.
A trait that Carr showed in both this game and the others I watched was that he often throws from his back foot. This is not a particularly desirable habit for a potential NFL quarterback to possess. However, after seeing the success that Eli Manning has had in the NFL whilst throwing off his back foot regularly, it is not a deal breaker. This need for Carr to throw without setting his feet properly has developed due to the incredible amount of pressure he faces against top competition. The fact that he is still able to make some incredible throws without the proper footwork is a testament to his natural arm talent.
Arguably the best throw of the game by Carr was off his back foot, as he hit freshman wide receiver Davante Adams down-field with a ball that only Adams could catch. Carr also manages to keep his eyes down-field when flushed from the pocket which allows for him to keep drives alive in the face of pressure.
This ability to throw on the run and in the face of pressure can at times be a detriment to Carr. He gets sloppy with his throwing motion and at times uses a side arm delivery to get the ball out in tight spots. This mechanical breakdown can lead to poor ball placement from Carr. This is particularly problematic in an offense like Fresno State's which is predicated on short accurate strikes where the receivers are supposed to be able to generate yards after the catch.
This game also illustrates something that is incredibly worrying but not particularly surprising about Carr's game. Early on, Boise State was able to generate a ton of pressure on Carr and constantly had him moving around and out of the pocket. By the end of the game, the pressure was not as consistent yet Carr was still being flushed out of the pocket by "phantom" pressure. This is a particularly worrying trait for a quarterback so young to be exhibiting. We have seen this ruin the careers of promising passers such as Carr's older brother and Blaine Gabbert.
Fresno State 10 vs. SMU 43
This was not a great way for Carr to end his season as he was abused consistently from the get go by Margus Hunt and the rest of the SMU defensive line. The Fresno State right tackle was horrific throughout the game, often reacting to snaps only after Hunt had already blown past him into Carr's face.
As he was facing constant pressure—a theme that pervades my evaluation of Carr—Carr was forced into mainly check down throws to his running backs or short bubble screens to his legion of inadequate pass catchers. Carr was able to show off his big arm on several occasions in this game as Fresno was behind early, and the running game was soon abandoned. He was able to complete four of his eight attempts that traveled 20 yards in the air or more—several of the incompletions dropped by his receivers. When throwing the deep ball, Carr also has the ability to move safeties from their spot with a big pump fake.
The truly concerning thing about Carr's game that is apparent in all three of the games I have watched of him is that he doesn't progress through his reads like he will need to do in the NFL. I have already highlighted the fact that Fresno's offense has a lot of quick passes where only one read is necessary. However, when longer routes are required from receivers, Carr often locks onto just one side of the field. This is hugely problematic as clever coordinators at the pro level will pick up on this and force him into mistakes.
The interception Carr threw to the left side of the field in the intermediate range was due to a combination of his two major flaws—not reading the whole field and not setting his feet. He didn't get his body in a good position to pass, as he threw across his body to the backside of the play. As he hadn't properly read the whole of the field, he was unaware that an SMU defender was in position to attack his pass and make the play.

Fresno State 25 – Oregon 42
For me this is the definitive Derek Carr game, the game that shows what he truly is as a prospect both the good and the bad. All the bad habits that I've highlighted in the prior two game reviews are there—the poor footwork, the spotty reading of defenses—but so are the good qualities that Carr possesses—primarily the wonderful natural arm he has.
Facing the Ducks exceptional defense Carr was at times confused by defenders dropping off into zones when he wasn't expecting it. There were two consecutive throws in the first half that should have been picked off due to Carr failing to recognize two defenders dropping into coverage.
Ball placement was inconsistent for Carr in this game, more so than in the others I have watched. In an offense based around short passing and receivers generating yards after the catch, this is a big problem. There were several times where Carr completed the pass, but his receivers had to adjust hugely to the ball—ruining the potential for a big play. As this was the first game of Fresno's season this could be due to a lack of chemistry between Carr and his pass catchers stemming from the Bulldogs transitioning from a more power based scheme under Pat Hill to the spread offense.
All of the good things in Carr's game were however present in Oregon, as he made three or four exceptional throws that show why there are scouts that talk about him as a first round draft pick. The best two throws that Carr made were actually both dropped by receivers. A deep throw down the right side of the field was lost in the air by Davante Adams who was hit perfectly in stride by Carr.
When Carr's ball placement was accurate he was able to fit the ball into some exceptionally tight windows, again flashing the potential that makes scouts sit up and take notice.

Concluding Thoughts:

As it stands right now I don't see Carr as a player who should be selected early in the 2014 draft. He is too inconsistent and his play exhibits too many bad habits for me to feel comfortable selecting him in the first two rounds.
This can all change in his senior year if he is able to show a better feel in the pocket and is more consistent with his footwork. Carr has decent athleticism for a quarterback of his size, so if coaches can get him feeling comfortable in the pocket, he will certainly have the potential to move up in my rankings. The arm talent is certainly there, it is just the mental aspect of the game that Carr will have to improve if he is to fulfill his obvious potential.
Prospect: C.J. Fiedorowicz
College: Iowa
Height: 6'7″
Weight: 265 LBs
Name: Tajh Boyd
College: Clemson
Height: 6'1″
Weight: 225 LBs
Prospect: Noel Grigsby
College: San Jose State University
Height: 5'11″
Weight: 175 LBs

Read the rest of this page »
Iowa Hawkeyes Prospect Preview:

Read the rest of this page »
Indiana Hoosiers Prospect Preview:

Read the rest of this page »
Illinois Fighting Illini Prospect Preview
Nebraska Cornhuskers Prospect Preview:

Read the rest of this page »