Why Pursuing Richard Seymour Makes Perfect Sense for the Atlanta Falcons
In NFL football, lineman depth on either side of the ball is something you can never have too much of. And for the last few seasons, the Atlanta Falcons have been surprisingly successful despite their lack of depth on the line—especially on defense.
With some new faces in camp, the Falcons hope to solidify the rotation on that D-Line, but there is still room for more help.
Reports have been surfacing for the past few weeks that the Falcons have an interest in free agent defensive tackle Richard Seymour—who even at 33 can still make a big difference to any team that signs him.
Seymour had 15 tackles and three sacks in eight games with the Oakland Raiders last season and is considered to be one of the top remaining NFL free agents left on the market. While some may think that Seymour's age and length of time in the league make him a questionable target, the Falcons might be shooting straight for a bulls-eye on this one.
Seymour—who possesses amazing skills even at his age—brings much more than just toughness and attitude to a defensive line. This guy is smart and very football savvy. He knows how to communicate with younger players, and he knows how to work within the type of defensive system that Atlanta will be employing.
Falcons GM Thomas Dimitroff has stated quite clearly that the team may not yet be done signing free agents for the year, and his past relationship with Seymour from their days with the New England Patriots would suggest that both parties have a good working dialogue.
Dimitroff said in an AP interview, "Richard is a fine football player and I think everyone believes he still has legitimate gas left in the tank. It will be interesting to see where he ends up in the league this year."
Statements like that sound suspiciously like typical Dimitroff "play it close to the vest" type of talk, and it's a good bet that the Falcons are much more interested than he is letting on. This would absolutely be a great fit for both the Falcons and Seymour.
The Falcons are looking for size and a better pass rush coming from the defensive line spots. If Seymour were to join Jonathan Babineaux in the middle of the defensive front, it would prevent teams from doubling up on Babineaux—who has really been the only serious rush threat coming from the middle.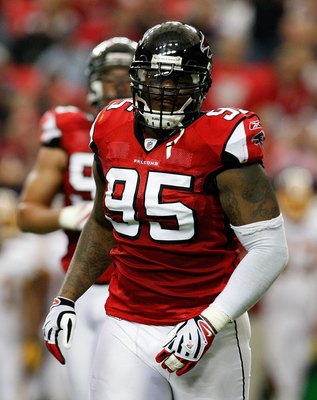 Seymour is looking for a place to wind down his career that will still offer him another opportunity at a championship, and Atlanta can certainly offer him that. His experience—particularly in the postseason and Super Bowl—would be a huge intangible, as the Falcons have a great deal of youth on the roster that would benefit tremendously from his tutelage.
Some of the delay in any serious talks with Seymour is probably do to the ongoing negotiations with Matt Ryan's camp to get his contract extension done. The Falcons need to know exactly what they have in terms of salary cap space before they can talk hard numbers with any premier free agents like Seymour.
In a 12-year NFL career with the Patriots and Oakland Raiders, Seymour has 496 tackles (324 solo) and 57.5 sacks in 164 games.